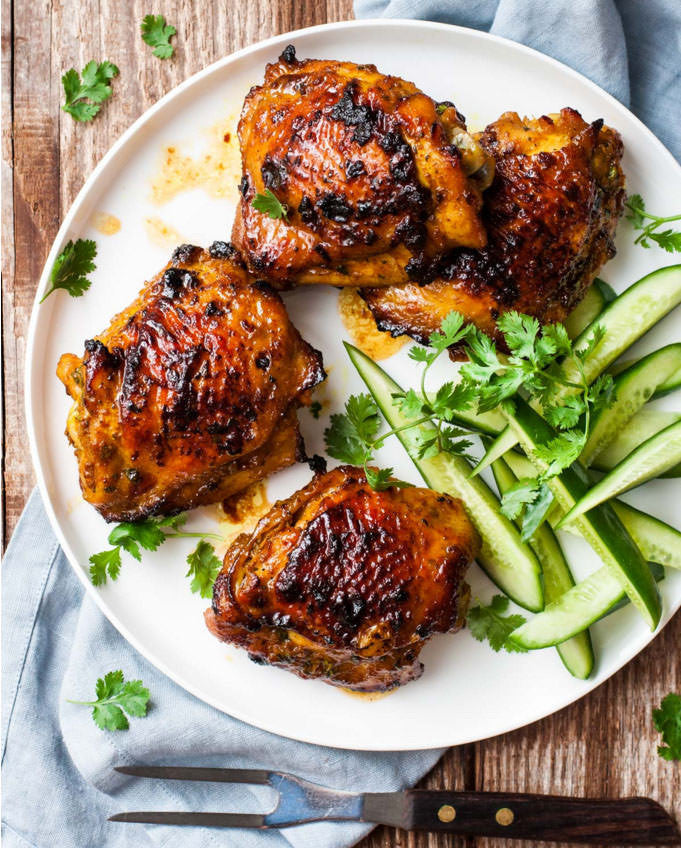 Southern Thai Chicken
Looking for inspiration for tasty but easy to cook diner? How about some Southern Thai Chicken :)
-
Here's how it's made:
-
INGREDIENTS
5 chicken thigh cutlets, skin on and bone in (around 2.5lb / 1.2kg) (Note 1)
Marinade
4 garlic cloves, crushed
2½ tbsp fish sauce
2½ tbsp oyster sauce
1 tsp white pepper, ground
3 tbsp very finely chopped coriander/cilantro stems (as finely as you can mince with knife)
1 tbsp ground turmeric
¼ cup brown sugar (or finely grated palm sugar)
Combine Marinade ingredients in a bowl

Add chicken and coat thoroughly in Marinade. Marinade for at least 3 hours, preferably overnight. (Note 2)
Preheat oven to 180C/350F. If you remember, take chicken out of the fridge and bring to room temperature.
(Optional) Line a tray with baking paper/parchment paper (to save cleaning up), then place chicken on the baking tray, skin side up. Scrape all Marinade out of bowl and dab onto chicken.
Bake for 35 to 45 minutes until deep golden brown and chicken is cooked through. If it is too brown before cooked, cover loosely with foil and return to the oven.
Allow to rest for 3 minutes before serving with rice and fresh slices of cucumber.
Stove: To cook on the stove, heat a skillet over medium heat. Place skin side down and cover with a lid. Cook for 5 minutes or until the skin is dark golden. Then turn and cover with a lid again, Cook for 8 to 10 minutes until cooked through. Rest for 3 minutes before serving.
This recipe was found on http://www.recipetineats.com/ please check it out for some more awesome recipes.